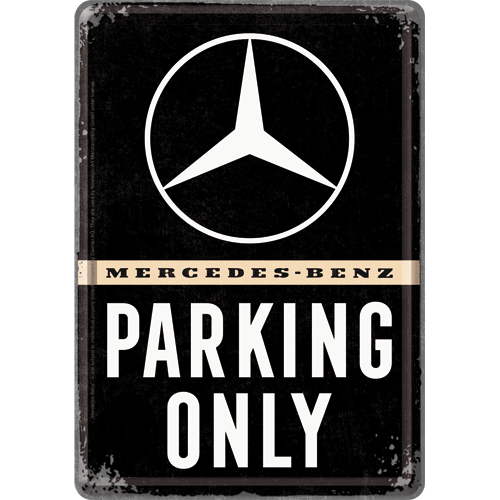 Mercedes-Benz Metal Card "Parking Only"
Prices incl. VAT plus shipping costs
Ready to ship today,
Delivery time appr. 1-3 workdays. Delivery times may vary depending on the delivery country.


This article is an exclusive AMG Private Lounge item. Please enter the correct code, to add the article to your shopping cart. For more information the code can be found under AMG Private Lounge
The code you have entered is not correct. Please try again
Product information "Mercedes-Benz Metal Card "Parking Only""
The arched metal card "Parking Only" with embossed edges can be mailed worldwide with or without the enclosed envelope.
The back of the card is coated with paper and can be used like a regular postcard for individual lettering. Tin-plate postcards greatly stand out against regular postcards.
The gloss of the image, its high quality and the wide range of application make them one of our most popular tin-plate products. Compared to the "regular postcard", the tin-plate postcard is not disposed off in the trash, but is often used as wall or shelf decoration.
Product details:
Format: 10 x 14 cm
Extra thick steel sheet metal
Arched and embossed edging
Rounded corners
Protective lacquer
Paper-coated back with envelope individually wrapped in plastic bag
Weight: 45 g
Ready to be send by post