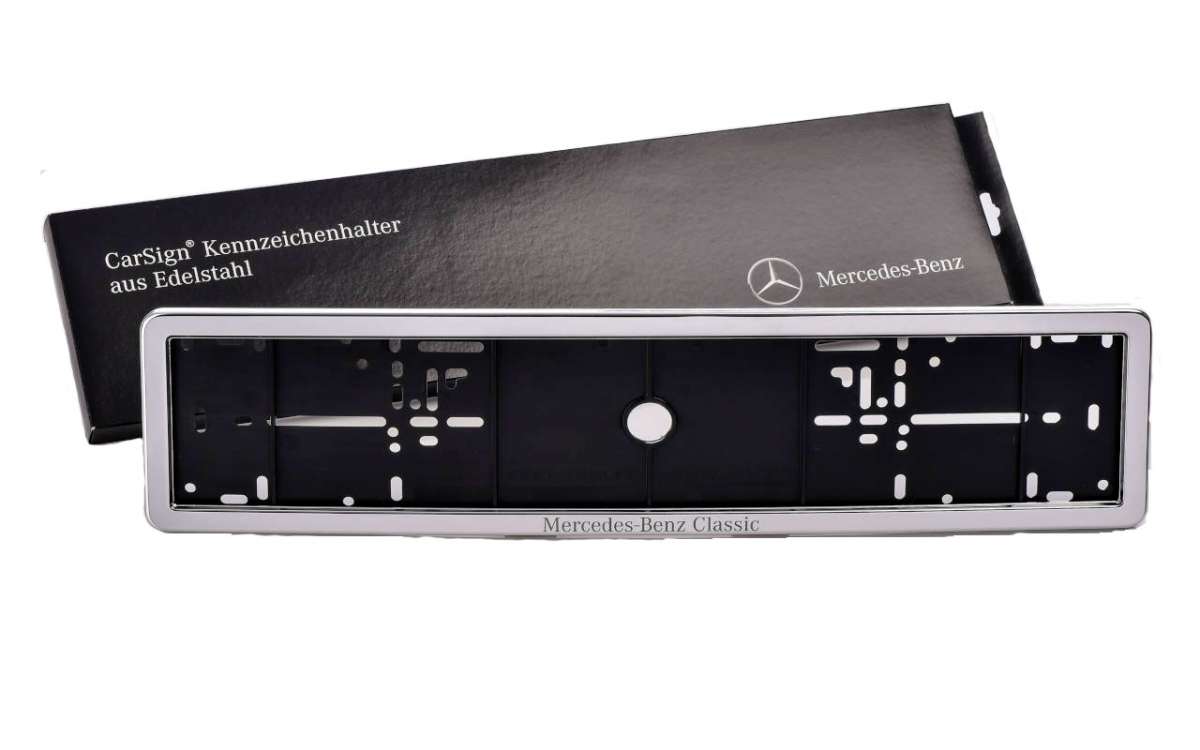 Licence Plate Brackets Classic EU
Prices incl. VAT plus shipping costs
Ready to ship today,
Delivery time appr. 1-3 workdays. Delivery times may vary depending on the delivery country.


This item is an exclusive AMG Private Lounge item Please enter the correct code, to add the item to your shopping cart. For more information on the code you will find under AMG Private Lounge
The code you have entered is not correct. Please try again
Product information "Licence Plate Brackets Classic EU"
For over 5 years the company CarSign of the swabian Balzheim has been proving that there are also fine plate holders. CarSign produces in its factory license plate holder of the premium class. Not only luxury brands in the "Center of Excellence" as Maybach, SLR, or SLS can be equipped with CarSign ®, but also more and more classic cars. The reason is the timeless good look of the stainless steel substrate in combination with an ingenious mounting system, which is especially for optically sensitive vehicle models an elegant and discreet solution.
A special accessory in the high-quality packaging that is suitable as a gift for all occasions.
Suitable for the license plate size 520 x 110 mm (EURO standard size).
1 pcs.


Product details:
Color: Silver
Sex: Unisex
Size: 520 x 110 mm
Material: Stainless steel
Further details:
Stainless steel frame, high-quality hard chrome plated
durable and extremely resistant to wash streets and road salt effects
exclusive laser-engraved "Mercedes-Benz Classic"
with a special plastic base support + patented clip system
Warranty + Service on direct and secure www.carsign.de
Made in Germany
For the vehicle rear (for the license plate size 520 x 110 mm europewide, EURO standard size, Exception: Swiss, Austria, Slovenia and Denmark)
Front Curve for Mercedes-Benz classic cars are possible on request. Please name your car model and year of construction